Brian May's Red Special
Welcome to this section of my web site that is dedicated to Brian May's Red Special.
Ever since I became a fan of Queen, and Brian May, I have had a fascination about Brian's guitar. I read a few books about Queen and Brian May and became indulged in how he managed to create such a masterpiece.
For the years ahead I would try to recreate this guitar, but did not succeed to my satisfaction. In 1995, for a school project, I decided to build this guitar once again. All my previous attempts had failed, but this time I had the time, the right tools, and the right support to be able to hopefully finally create this guitar.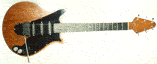 By 1996 I finished the guitar but there were many flaws in its ability, mainly down to how I designed the guitar. Below is picture of me playing this guitar in the back garden of my cousin's old house. As I recall I was playing along to 'Crazy Little Thing Called Love'.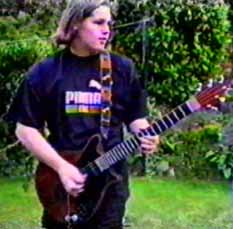 Some time after completing this guitar I decided to attempt to resolve the flaws in its design. Some of the flaws included: going out of tune, not return to tune after using tremolo arm, neck too thick, wrong color, etc.
Below are some pictures of this guitar going through the changes.
Even though I rectified some of the problems with this guitar I still was not happy with it. I strip it down again to sort out some of the remaining problems. This time the guitar was more playable and useable. Below are some pictures that I took after these problems were resolved. I also tried a different finish which changed the colour of the guitar.
Even though I rectified some of the problems with this guitar I still was not happy with it. A couple of years later I begun work on it again. This time with the help of various people from where I used to work. They had all the tools I needed, the area I needed, and the right minds to do it. I was also going to create a new one, as well as sort the old one out.
Unfortunately I parted company with my employers so work on the old guitar stopped. The new guitar, that I was going to create, never got past the design stage.
I have never really been happy with this guitar, and struggled in vein to rectify the problems with it. Currently this guitar stands in my garage, alone and bare. I think I have done too much "messing about" with it for it to ever be playable. But I will keep it as a testiment to what I have done in the past.
As mentioned by Tim (Queen2) on the Brian May World Forum, this guitar is now to be referred to as my 'John Birch'.

Over the past few years I have harboured the desire to create another one. However, time, money, and expertise have restricted me from doing so. But now, in 2005, I have the necessary resources to begin my dream again. In conjunction with my girlfriend's father we are going to create the Red Special. He has the expertise in construction, and I have the plans of what we need to create.
From scouring the Internet for resources on guitar making, and more importantly, making the Red Special, I have amassed a great deal on creating the Red Special. I am going to create a detailed construction document on how I have created this guitar. This document will amalgamate all the knowledge I have acquired over the years of researching the Red Special.
Please click here for the start of the "Making of" document. Or click here for my diary of creating the famous axe.
Summer 2005 Update
I have decided that, if successful with my first attempt, I would like to create two more and finish two previously unsuccessful attempts. All of which will be different to each other, whether it be in looks, design, or construction.
Summer 2010 Update
After 5 years I have finally startedon building my next set of Red Specials. I will not be keeping a diary of my progress like before. I may update the information that I have put up and may show some progress pictures. I am hoping this batch of guitars will not take as long to build as the previous one, but who knows.
Once I have completed these guitars I am planning on returning to my original (Delboy) to do some remedial work.
Page updated: Monday, November 15th 2010, 9:43 am