Designing the bridge of Brian May's Red Special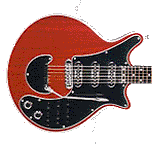 Dimensions
| | | |
| --- | --- | --- |
| | Original | New |
| Width | ?mm | ?mm |
| Depth | ?mm | ?mm |
| Length | ?mm | ?mm |
| Axel Diameter | 1mm | 1mm |
| Roller Diameter | 3mm | 5mm |
Notes
The inner two segments are actually one piece as they are the same height, however it is not a must.
The outer two segments are wider than the other segments.
The outer two segments are rounded off for effect (or can have a 45° slope).
The original saddles were made from one piece of steel.
There are different cases for having the saddles constructed sperately from the axel or together, and both are 'professionally' backed.
Each segment can have 5/6 slots for the saddles.
The entire bridge is sat on top of part of the scratchplate (seperate).
Each segment is screwed to the body THROUGH the scratchplate AND veneer.
The entire width of the bridge will be dependent on your measurements for the neck.
You can create each segment the same height and then use shims to set the height.
Page updated: Wednesday, December 5th 2007, 8:57 pm