Designing the body of Brian May's Red Special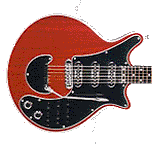 The design of the main body can be complicated depending on which method you want to use to create it. It is the overall opinion of various people that the best method is to have an oak centre with blockboard on either side.
Dimensions
| | | |
| --- | --- | --- |
| | Original | New |
| Width at widest point | 340mm | 340mm |
| Width at narrowest point | 200mm | 200mm |
| Width of oak centre | ?mm | 77mm |
| Depth of blockboard/oak | 36mm | 36mm |
| Depth of veneer | 2mm | 2mm |
| Length | 404mm | 404mm |
Oak Centre
Firstly, it would be advisable to design the oak centre as this is the vital piece that connects the body to the neck.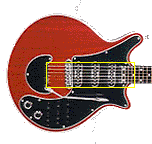 I will be using oak that is approximately 77mm wide and 18mm deep. In my opinion, anything around this width is acceptable and usable. Now you need to plan how you are going to utilise this oak. Below is the plan of the oak centre. The 'top block' will be cut off and glued on top of the area 'Placement of top block'. In my opinion, it is not really necessary to have an entire dual layer block of oak as most of it will be routed out anyway. But if you wish to use two full lengths, or even one entire block, then please feel free.

Blockboard
Now you have the oak centre designed you can move onto the rest of the body, which will be made from blockboard.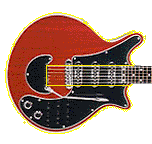 Click here for my plan of the outer bloakboard area. Please note that I have made the body more narrow as it was too wide. - 22/07/05
If you have decided to contruct the entire body out of blockboard, then simply merge the two plans together.
Cavities
Now you have got the oak centre and the blockboard area designed, you now need to look at the cavities. The upper cavity can simply be designed to take up as much or as little as the upper area of the blockboard. The bigger the cavity the more sustain you are most likely to receive. However, the only downside of this is that the larger the cavity the lower the strength of the guitar. This maybe very minor but could still be a factor.
The lower cavity has to be more precise than the upper as the electronics will be housed here and the scratchplate has to cover the entire area.
Click here for my plan of both cavities.
Page updated: Wednesday, December 5th 2007, 8:57 pm