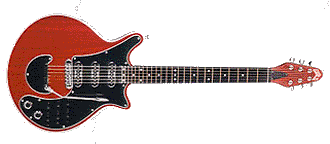 Guild Pro '93 replica
8th December 2005
At the moment I do not have much time to do anything, but the very little I do have I have been working on the frets, bridge, and scratchplate. ALl the frets have now been put on the fretboard. I have also installed the tremolo.
Here are some pictures of it's current status:
14th December 2005
Today I set about anodising the aluminium bridge.
16th December 2005
Today I cut down each saddle to the correct height and fitted the machine heads / tuning pegs.
19th December 2005
20th December 2005
21st December 2005
22nd December 2005
Still To Do!!!
Glue back raised veneer on sides
Correct zero fret
Refine switch holes on scratch plate
'Neaten up' tremolo screws access holes
More coats of lacquer
Complete tremolo arm
Page updated: Wednesday, December 5th 2007, 8:52 pm