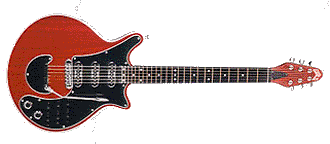 Guild Pro '93 replica
7th November 2005
During the evening I had a little time so I added another coat of sanding sealer to the body. I sanded the body before applying the coat.
30th November 2005
During the the previous week I gave my body to my girlfriends dad who finished applying the lacquer. The body is now finished in regard to its 'finish'. As it is now finished I drilled the holes for access to the tremolo springs/nuts and another hole for the jack socket. Then I installed the tremolo unit.
The next step for me was to continue with making the bridge. I did not get chance to finish it as it will require more refining once I have the scratchplate completed.
Page updated: Wednesday, December 5th 2007, 8:53 pm